This is the last of three consecutive posts reporting the results of the Utility Fee Survey. Eighty-eight utilities, from 15 states, ranging in size from 200 to 168,500 active accounts participated in the survey.
The first issue summarized the demographics of the survey respondents as well as water and sewer tap and impact fees. Last week's issue dealt with delinquent fees and policies. Today's issue explores the remaining fees.
Returned check fees
Of the 88 participating utilities, 86 charge a returned check fee. Returned check fees range from $15.00 to $50.00, as this graph illustrates: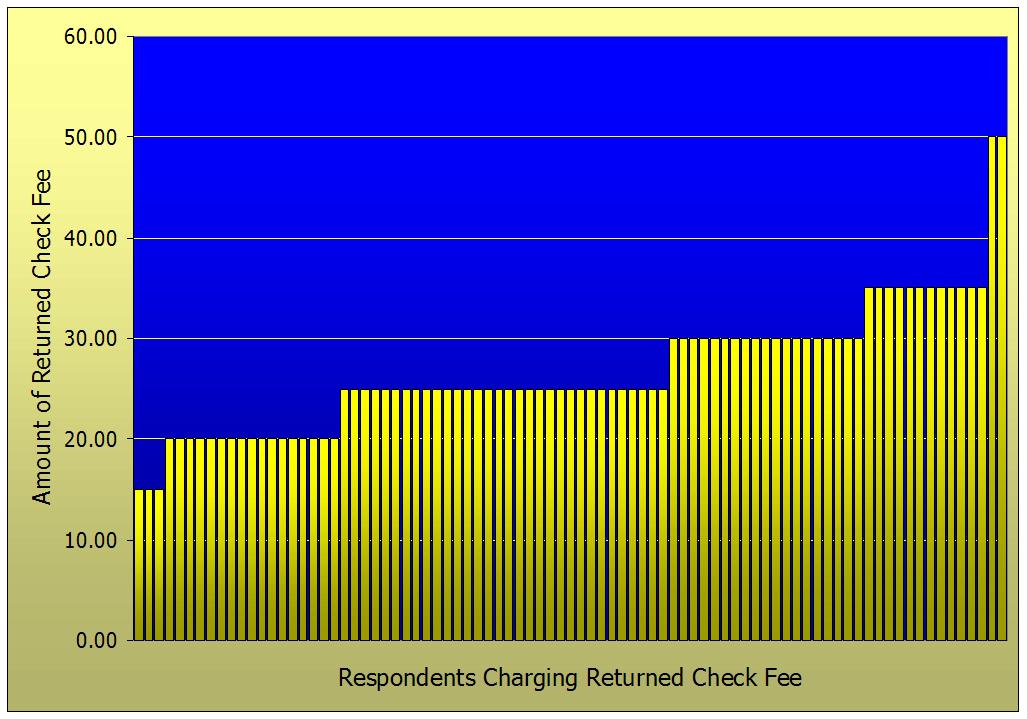 Application fees
In Utility Information Pipeline #10, I wrote about application for service best practices. One of my recommendations was to charge a non-refundable application fee, in addition to any security deposit, to all new accounts. I'm pleased to report that 46 of the 88 utilities (representing 52.3%) responding to the survey charge such an application or administrative fee. These application fees range from $5.00 to $100.00 as shown below: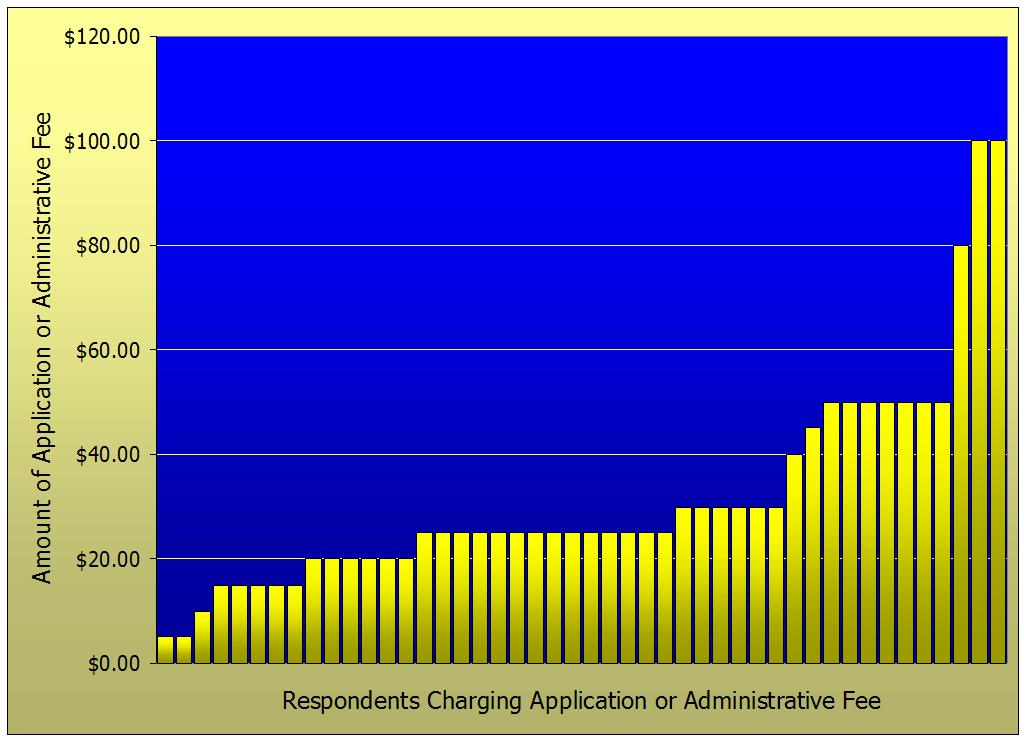 Meter reread fees
Sixteen of the eighty-eight utilities (or 18.2%) charge a meter reread fee if the customer requests their meter be reread. In many cases, this fee is waived if it turns out the customer was correct and the utility misread the meter. Of the utilities that charge a meter reread fee, the fee ranges from $8.00 to $50.00 as this graph shows:
Meter tampering fees
Fifty-three of the eighty-eight utilities (or 60.2%) charge a meter tampering fee. Six utilities charge the actual cost of repairs or cost plus an administrative fee. The remaining 47 utilities charge a flat fee ranging from $15.00 to $1000.00 as shown below: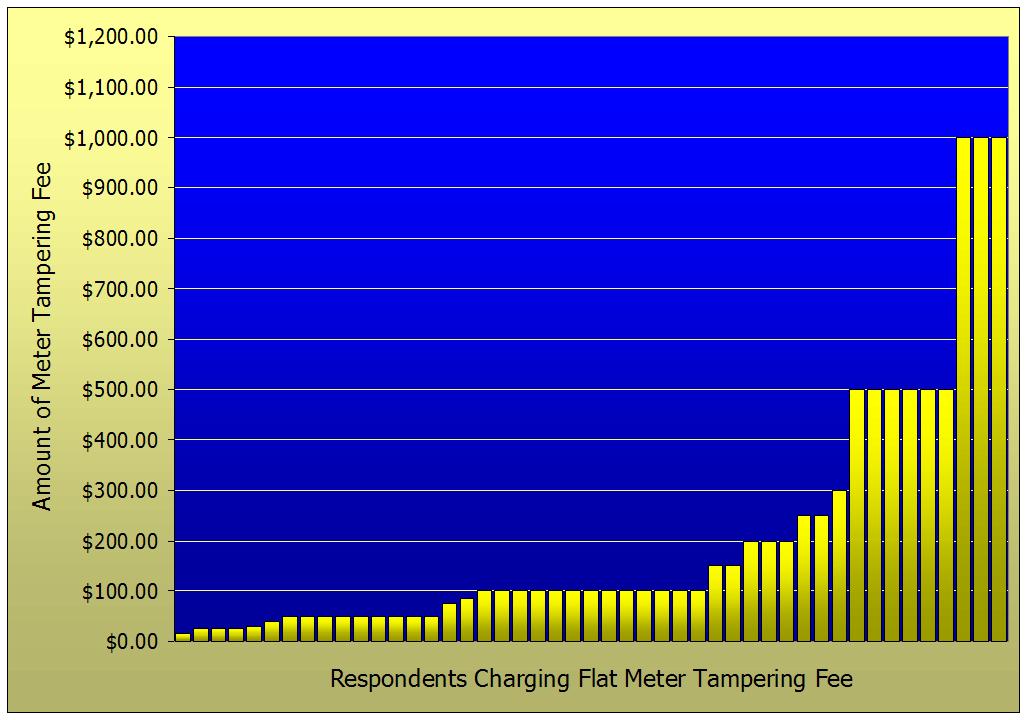 Convenience fees
One of my earliest issues last year explained why I believe utilities should accept credit cards. I'm pleased to see that, of the 88 utilities responding to the survey, 55 of them (or 62.5%) accept credit cards. Of the 55 that do accept credit cards, 22 of these charge a convenience fee on at least one form of credit card payments as shown below: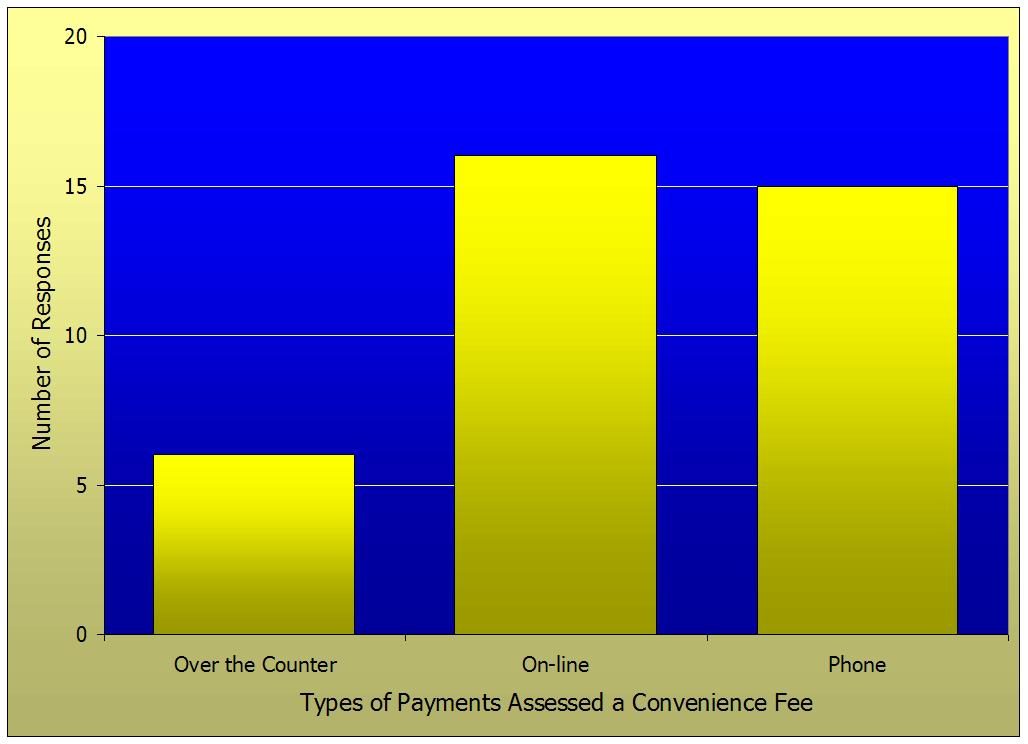 As you can see, six utilities assess a convenience fee for over the counter payments. If you read Utility Information Pipeline #22, you know that, unless you are in a state with specific legislation allowing you to do so, Visa and MasterCard do not allow convenience fees for over the counter payments, so these six utilities are potentially in violation of their agreements with Visa and MasterCard.
The convenience fees charged by these utilities are too diverse in how they are assessed to be graphed, so they are presented here in a table:
Other fees
In addition to the fees that have been described in the three results issues, the survey asked what other fees utilities charge. Below I've listed a few of the more creative fees that were reported:
Letter of credit fee
Customers who have moved away often request a letter of credit reflecting their payment history while they were customers. One utility charges a $5.00 fee to provide a letter of credit. Your staff must take time to prepare the letter of credit and send it to the requesting utility, so why not charge a fee for providing this service?
Payment extension fee
Many utilities offer payment extensions to customers who may not be able to pay their bill by the due date. One utility assesses a $5.00 fee per payment extension. Having to pay an additional fee to extend the payment date may well be all it takes to convince your customer to go ahead and pay the bill now. If not, it provides an additional source of revenue when they do pay.
Return trip fee
When turning a meter on, most utilities will not leave the water on if the meter indicates water is running inside the house and no one is home. This requires the utility to make a return trip when the customer is home to turn the meter on again. Several utilities charge a return trip fee to cover the time and expenses involved in returning to the customer's home.
Same day connection fee
A number of utilities routinely provide next day service for activating new accounts. A few utilities charge an additional fee for same day service and one even charges more for same day service late in the afternoon than they do for earlier in the day.