I've written in past years about the Fiserv Billing Household Survey, now called Expectations & Experiences: Consumer Payments, which describes consumer trends in paying bills. You can read those articles from 2013, 2015, 2016 , and 2018.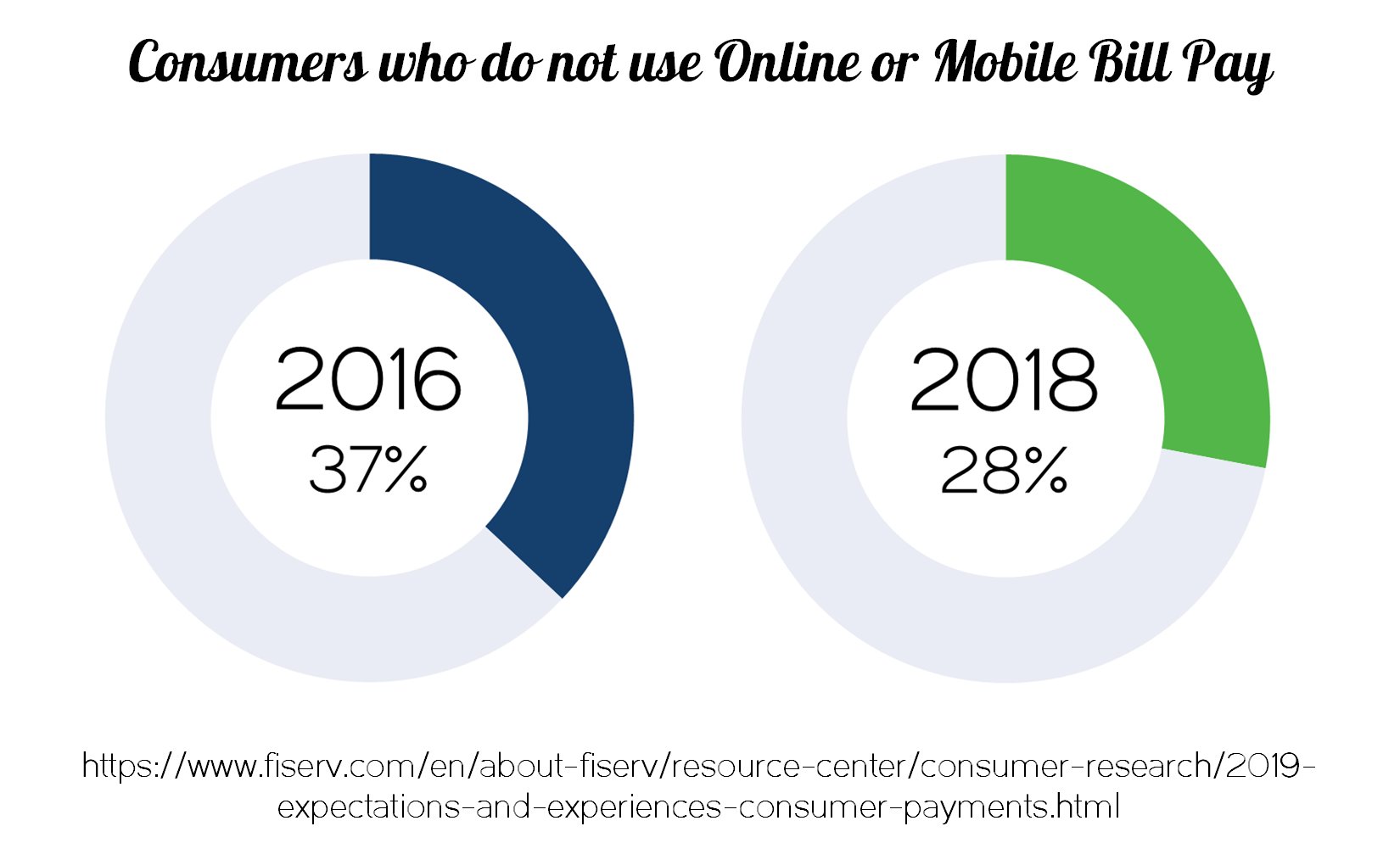 Results of the 2019 survey
You can find a summary of the results of the 2019 survey here. Toward the bottom of the page is an orange button with a link to download a document with more detail about the survey results.
The document lists four major findings, of which the top three are applicable to utilities:
Online payment activity is increasing
Security concerns are decreasing
Decrease in need for a paper trail
Person-to-person payments are becoming more popular
Let's examine the first three in more detail:
Online payment activity is increasing
While this isn't at all surprising at face value, what is surprising is the use of online payments by baby boomers and seniors is increasing faster than any other age group. However, as was my point in the last post, the overall use of online payments is highest among younger people.
Mail is still the most popular method of receiving bills (49%), but being able to view a bill from your website is close behind (41%), a significant increase from 2017.
Security concerns are decreasing
What I find most intriguing about this finding is more people believe paying their bill on your website (46%) is more secure than paying by mail (40%)! What this tells me is, if you're not offering online bill pay, you are doing your customers a disservice!
Decrease in need for a paper trail
I hadn't thought about this perspective in the past, but apparently one of the factors keeping customers from paying online is the lack of a paper trail. However, as the graphic above points out, the percentage of customers who don't use online or mobile bill pay has decreased from 37% in 2016 to 28% in 2018.
The bottom line
In the final analysis, if you're not offering online bill pay or ebilling, you likely aren't meeting the needs of your customers, no matter what their age group is.