Over the course of the next few blog issues, I'll be analyzing and reviewing some of the trends I observed from the 2019 Utility Fee Survey. If you need a refresher, here are links to the three results issues for the 2019 Utility Fee Survey:
But before we start analyzing the data, let's take a look at something else that stood out to me.
Generic email addresses
One of the things that surprised me about the survey responses is the number of utilities still using generic email addresses. By this, I mean an email address without a domain name specific to the utility. For example, xyzutility@gmail.com rather than jdoe@xyzutility.com.
Over the seven-year history of the Utility Fee Survey, the percentage of generic email addresses has dropped slightly, with the exception of a small uptick in 2017: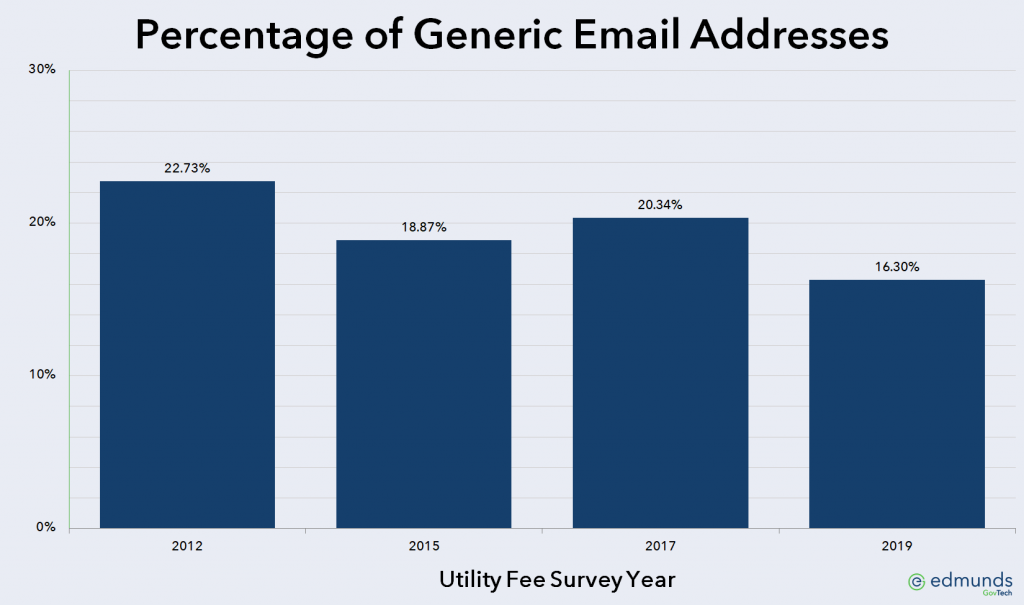 A bigger surprise
Even more surprising to me were the attendees from a recent utility conference where I presented my Improving Revenue Collections for Utilities presentation. A whopping 68.75% of the utility staff (this excludes board members and non-utility employees) attending the presentation had generic email addresses!
Branded email means credibility
A Verisign survey, dating back to September 2015, "found that 65 percent of consumers believe a company-branded email is more credible than a business using a free email account." Even though your utility may not be a for-profit business, the need for credibility is no different!
If this was the case in 2015, I have to believe it's even more important now – over four years later!
How to solve this
There's an easy, low-cost way to solve this. First, secure a domain name for your utility. If you already have a website, you've got this step covered.
Next, signup for Google's G Suite which provides branded email, shared calendars, and cloud storage for as low as $6 per user per month. You get the same easy-to-use email interface you may already be using for your personal email with a branded email address identifying your utility.