I've been preparing for an upcoming Edmunds GovTalk webinar (more on that in a little bit…) and, in doing so, I've been researching online payment trends during COVID-19.
Suspending convenience fees
In my first blog post about COVID-19, I mentioned that some utilities were suspending convenience fees to encourage more customers to pay online.
Now, four and a half months later (it seems like so much longer, doesn't it…?), I wondered if doing so resulted in the intended effect.
Analyzing customer data
We had a handful of customers make the decision to suspend charging convenience fees, but only two of them have offered online payments for long enough to establish a trend. Both of those customers saw an increase in customers paying online, however one saw a dramatic increase.
Below is a graph of the percentage of online or IVR payments for this utility for the first seven months of each of the last four years (clicking on the image will open a larger graph in a new window):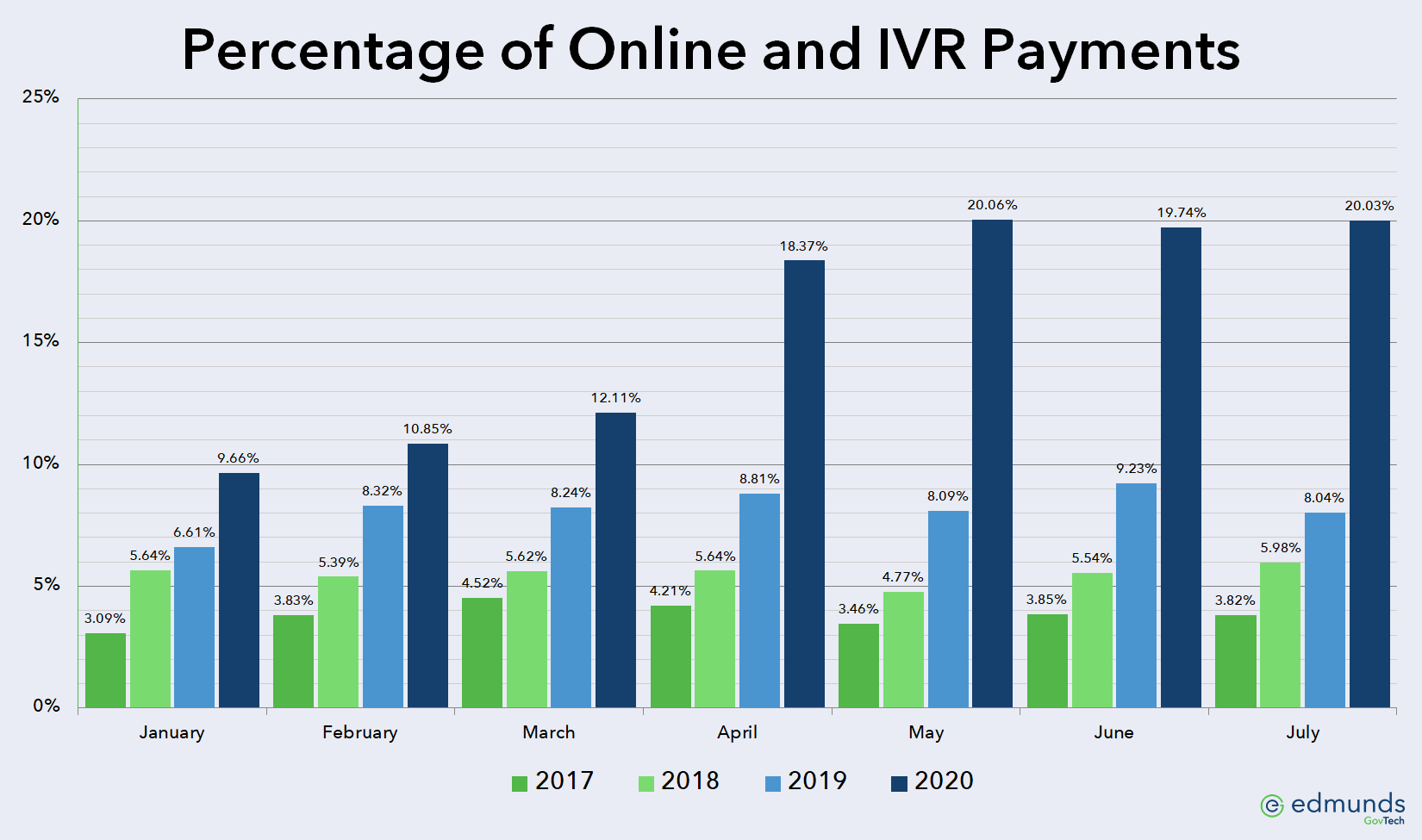 Sharp increase in online payments
This utility suspended convenience fees in mid-March, just after the due date for February bills had passed. As you can see from the graph, they experienced sustained growth in online and IVR payments each year, as compared to the same month for the previous year.
That steady trend continued for the first three months of 2020 before taking off in April (the first full month of payments with no convenience fee). For the past four months, online and IVR credit card payments have been more than double the same month from last year!
How were they paying before…?
While I was analyzing the data, curiosity got the best of me and I wondered how this group of customers previously paid their bills. So, I queried the database to find accounts that paid online in April, May, June, and July of 2020 where the same account also made a payment during the corresponding month in 2019 that was not an online or IVR payment. This query yielded 890 such payments, which represents the exact increase in the number of online and IVR payments since the suspension of convenience fees over the same four months in 2019.
Below is a breakdown of how those 890 payments were made in 2019:
Impact on the utility
Obviously, the utility has increased costs due to absorbing the credit card fees. However, this is nearly 900 payments that a cashier didn't have to handle across the counter or a customer service rep didn't have to open the mail and enter. Is it possible the labor savings more than offset the increased expense for fees? That question is impossible to answer without knowing more about the utility office involved, but it certainly isn't outside the realm of possibility.
Conclusions
My position on charging convenience fees has wavered over the years. Initially, I thought it would be a deterrent to customers paying by credit card. However, as I saw the volume of credit card payments increase for our customers who charge a convenience fee, I changed my mind. Now, at least for this example, it seems there is still a segment of the population who will pay by credit card, but refrain from doing so when a convenience fee is charged.
Emerging from COVID-19
At the top of the post, I mentioned an upcoming Edmunds GovTalk webinar. This webinar will be entitled Emerging from COVID-19. I will be joined by three other industry experts as we examine some of the impacts of COVID-19 and offer strategies for dealing with them as you try to return to normal operations. The other presenters will be:
You can learn more about the webinar and register here.
WaterPro 2020 Virtual Conference presentation
Before it was canceled due to COVID-19, I was scheduled to present at WaterPro 2020 in Phoenix, the annual conference for the National Rural Water Association. WaterPro 2020 will instead take place as a virtual conference, and I will be one of the speakers, presenting Improving Revenue Collections for Utilities at 9:00 am Eastern on Tuesday, September 15.
If you would like to attend my presentation, you must register for the conference, but the good news is registration is free! You must register for each session you wish to attend, so be sure to select the 8:00 am (times on the registration website are Central time) presentation on Tuesday. You can register for the conference here.