This is the last of three consecutive posts reporting the results of the 2015 Utility Fee Survey, an update to the original Utility Fee Survey I conducted in 2012. 106 utilities, representing 19 states, ranging in size from 83 to 90,000 active accounts participated in the survey.
The first issue summarized the demographics of the survey respondents as well as water and sewer tap and impact fees. The last issue dealt with delinquent fees and policies. Today's issue explores the remaining fees.
If you're interested, here are the results from the 2012 Utility Fee Survey:
◦ 2012 Utility Fee Survey Results – Part I
◦ 2012 Utility Fee Survey Results – Part II
◦ 2012 Utility Fee Survey Results – Part III
Returned check fees
Of the 106 participating utilities, 105 charge a returned check fee. Returned check fees range from $6.00 to $50.00, as this graph illustrates: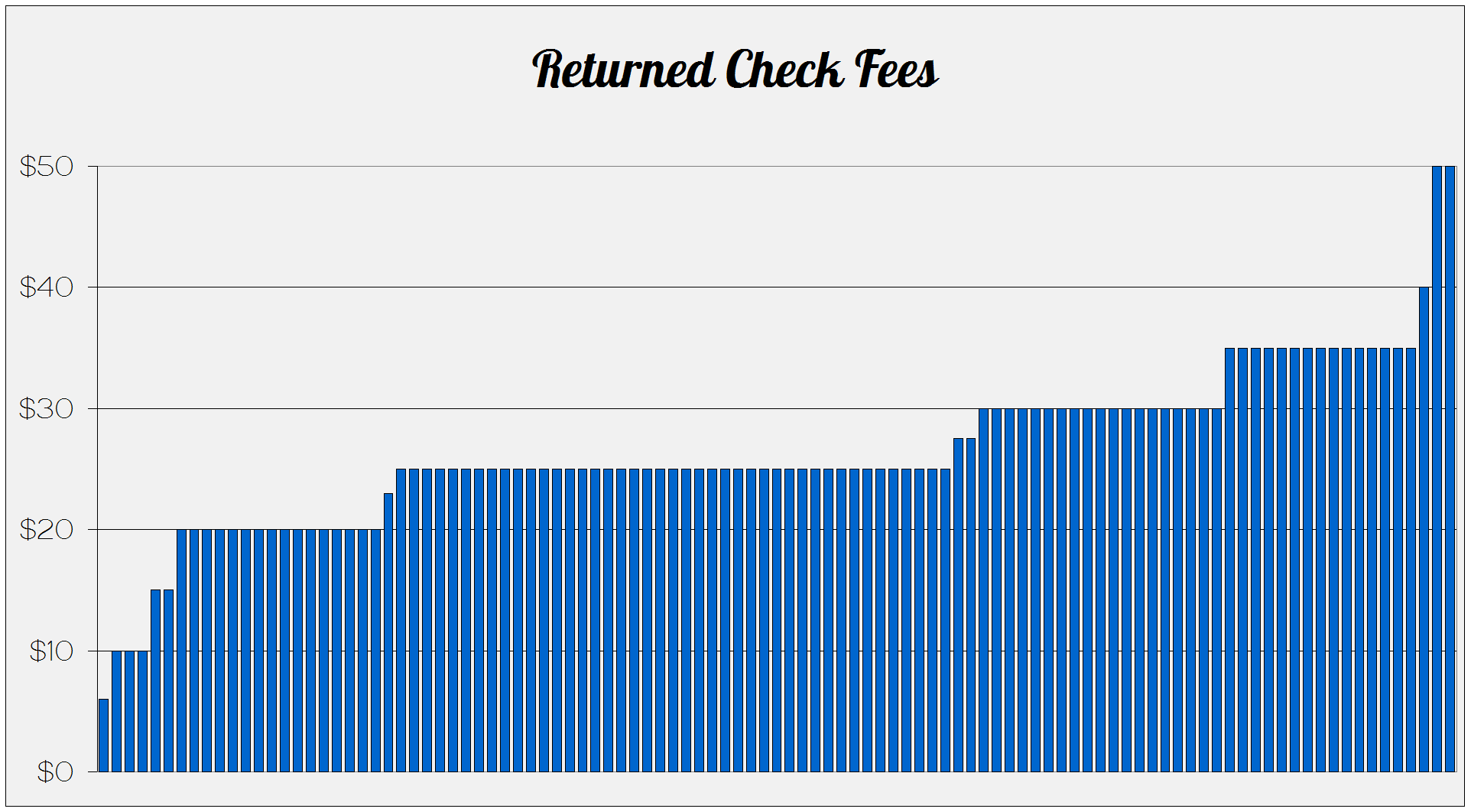 Application fees
In a previous post, I wrote about application for service best practices. One of my recommendations was to charge a non-refundable application fee, in addition to any security deposit, to all new accounts. I'm pleased to report that 55 of the 106 utilities (representing 51.9%) responding to the survey charge such an application or administrative fee. This is down slightly from the 52.3% reported in the 2012 Utility Fee Survey. These application fees range from $5.00 to $100.00 as shown below: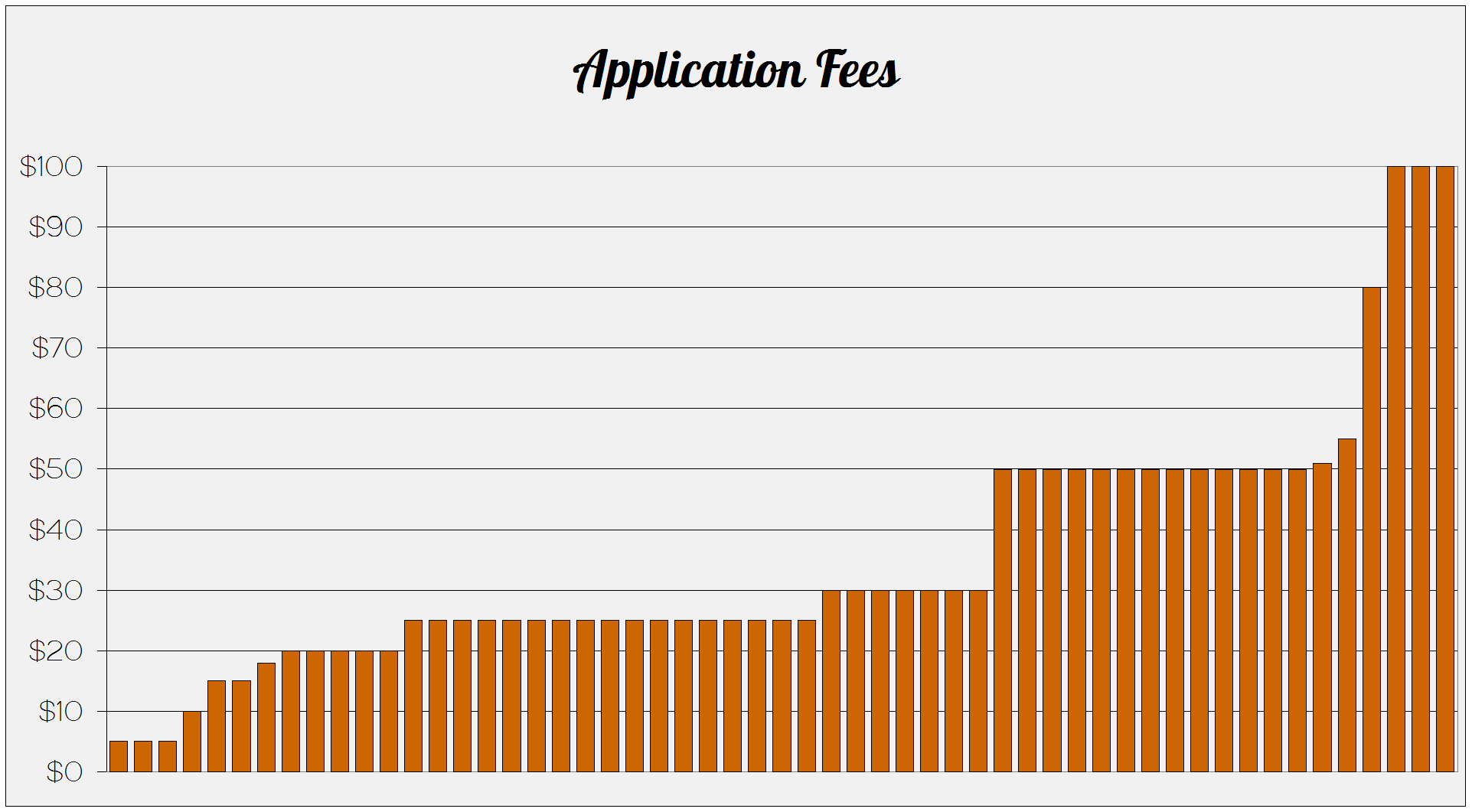 Meter reread fees
25 of the 106 utilities (or 23.6%) charge a meter reread fee if the customer requests their meter be reread. This is up from the 18.2% charging a meter reread fee in 2012. In many cases, this fee is waived if it turns out the customer was correct and the utility misread the meter. Of the utilities that charge a meter reread fee, the fee ranges from $5.00 to $50.00 as this graph shows: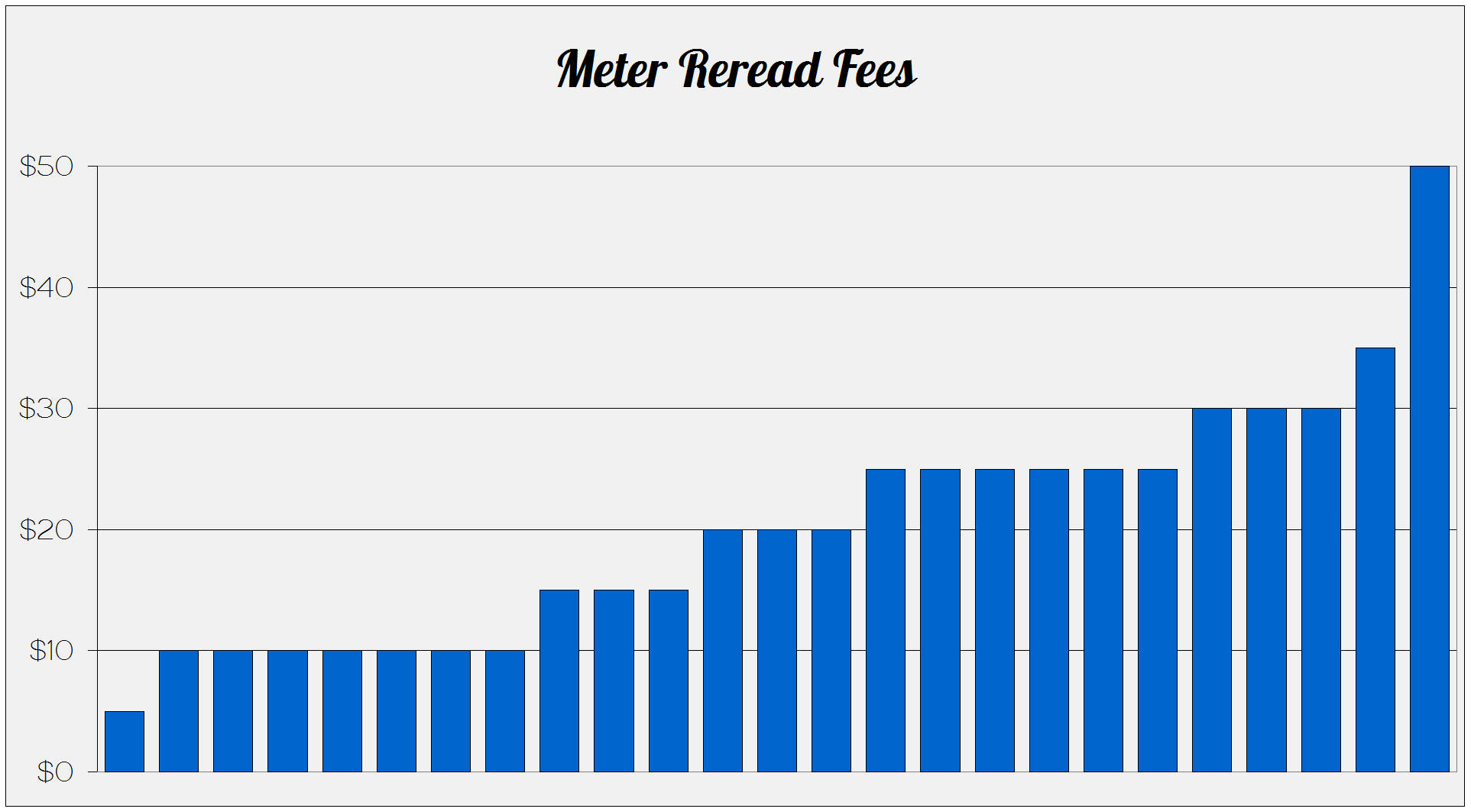 Meter tampering fees
78 of the 106 utilities (or 73.6%) charge a meter tampering fee. This is up from 60.2% charging a meter tampering fee in 2012. Nine utilities charge the actual cost of repairs or cost plus an administrative fee. Four more utilities recover their costs through the judicial system. The remaining 65 utilities charge a flat fee ranging from $15.00 to $1000.00 as shown below:
Convenience fees
One of my earliest issues explained why I believe utilities should accept credit cards. Of the 106 utilities responding to the survey, 86 of them (or 81.1%) accept credit cards. I'm pleased to report that this is an increase from 62.5% three years ago. Of the 86 that do accept credit cards, 40 of these charge a convenience fee on at least one form of credit card payments as shown below: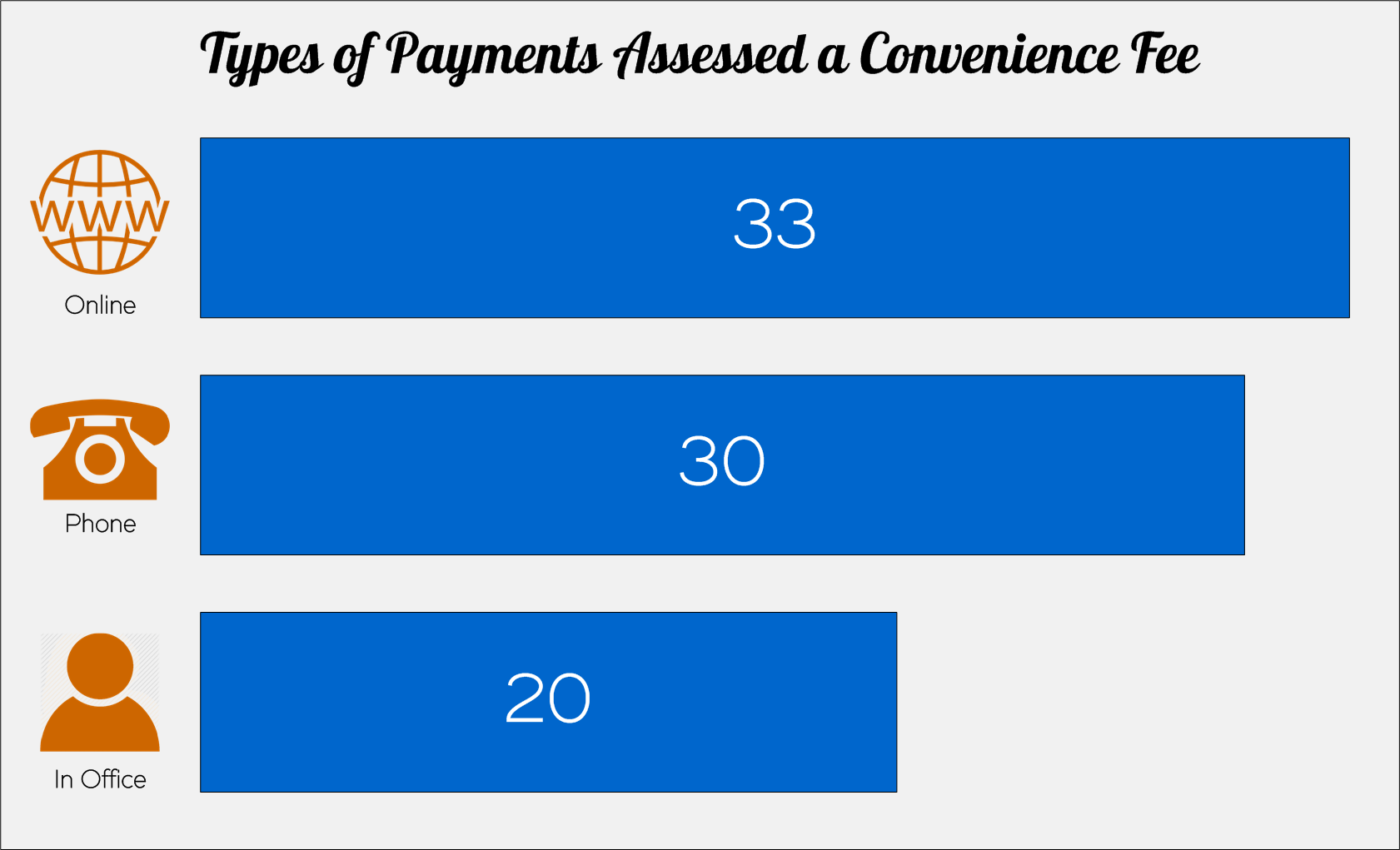 The convenience fees charged by these utilities are too diverse in how they are assessed to be graphed, so they are presented here in a table: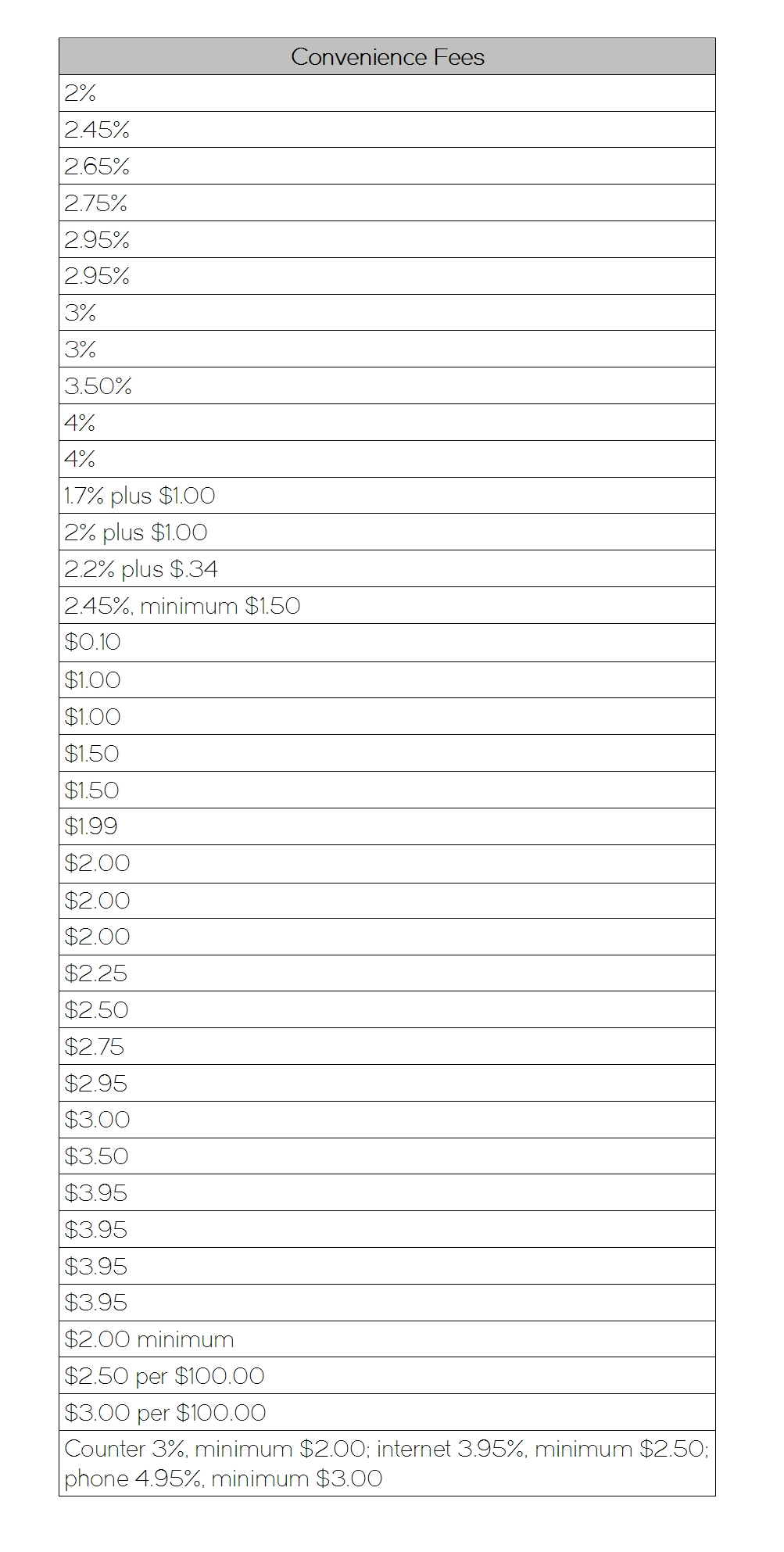 Other fees
In addition to the fees that have been described in the three results issues, the survey asked what other fees utilities charge. Below I've listed a few of the more creative fees that were reported:
Meter test fee
A number of utilities charge a fee if the customer requests that their meter be tested. The survey didn't specifically ask about meter test fees, however, one utility volunteered that they only charge the fee if the test determines the meter is registering correctly. Hopefully, all utilities follow this policy because the customer is probably doing you a favor if the meter test reveals the meter is registering incorrectly.
Return trip fee
When turning a meter on, most utilities will not leave the water on if the meter indicates water is running inside the house and no one is home. This requires the utility to make a return trip when the customer is home to turn the meter on again. Several utilities charge a return trip fee to cover the time and expenses involved in returning to the customer's home.
Same day connection fee
A number of utilities routinely provide next-day service for activating new accounts. A few of these utilities charge an additional fee for providing same-day service.
Field collection fee
Most utilities have adopted the best practice of not collecting money in the field on cut-off day. At least one utility still allows customers to pay the field technician to avoid being cut off and they charge an additional $25.00 to provide that service.