The current best practice for new construction is to require a separate meter for each unit (primarily apartments or stores) in a multiple-unit building. However, some utilities have grandfathered existing apartment buildings or shopping centers with a single master meter. This post deals with these kinds of accounts.
I've written previously about multiple unit calculations, but feel like it's worth reviewing again, especially the possibility of unintended billing consequences, with an illustration. My previous post referenced two common scenarios for billing multiple units. Each of these is described in more detail below.
Average bill method
When most utilities had decreasing block rates, many of those utilities billed accounts with multiple units by dividing the total usage by the number of units and calculating a bill based on the average usage per unit. This average bill amount was then extended by the number of units to arrive at the final bill amount.
Because decreasing block rates generated more revenue from the lower usage blocks, it was advantageous to bill using this method which forced more usage into the lower tiers, resulting in more revenue for the utility.
For an excellent explanation of decreasing, increasing, and uniform block rates, see this blog post from the Environmental Finance Center at UNC. As a side note, there is a wealth of rate-related information, categorized by state, on the EFC website here, including, for some states, rates dashboards and detailed reports analyzing rate structures for each utility.
Multiple base charge method
An alternative to the average bill method is the multiple base charge method, which charges a base charge equal to the single unit base charge times the number of units. Correspondingly, the usage included in the base charge is also multiplied by the number of units. The remaining usage is then billed according to the rate tiers and added to the calculated base charge.
Depending on your rate structure and your actual rate, this method may generate more revenue than either the average bill method or billing the customer as a single unit for the total usage.
Unintended consequences
However, as many utilities transitioned from declining block rates to increasing block rates, this same billing methodology in some cases no longer worked to the utility's benefit and actually benefited the customer. This is because, with increasing block rates, the lower rate tiers generate less revenue, not more.
Hypothetical illustration
Let's look at an illustration using these hypothetical rates: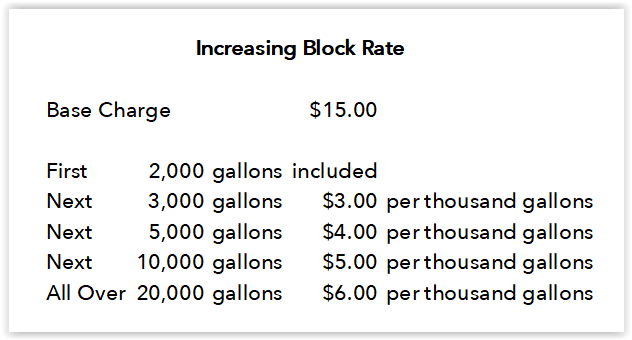 Assuming a 20 unit apartment building with a master meter that used 100,000 gallons, the graph below illustrates the difference between the average bill method (shown in green), the multiple base charge method (shown in gray), and merely billing for the total usage as a single unit (shown in blue). Clicking on the image will open a larger graph in a new window.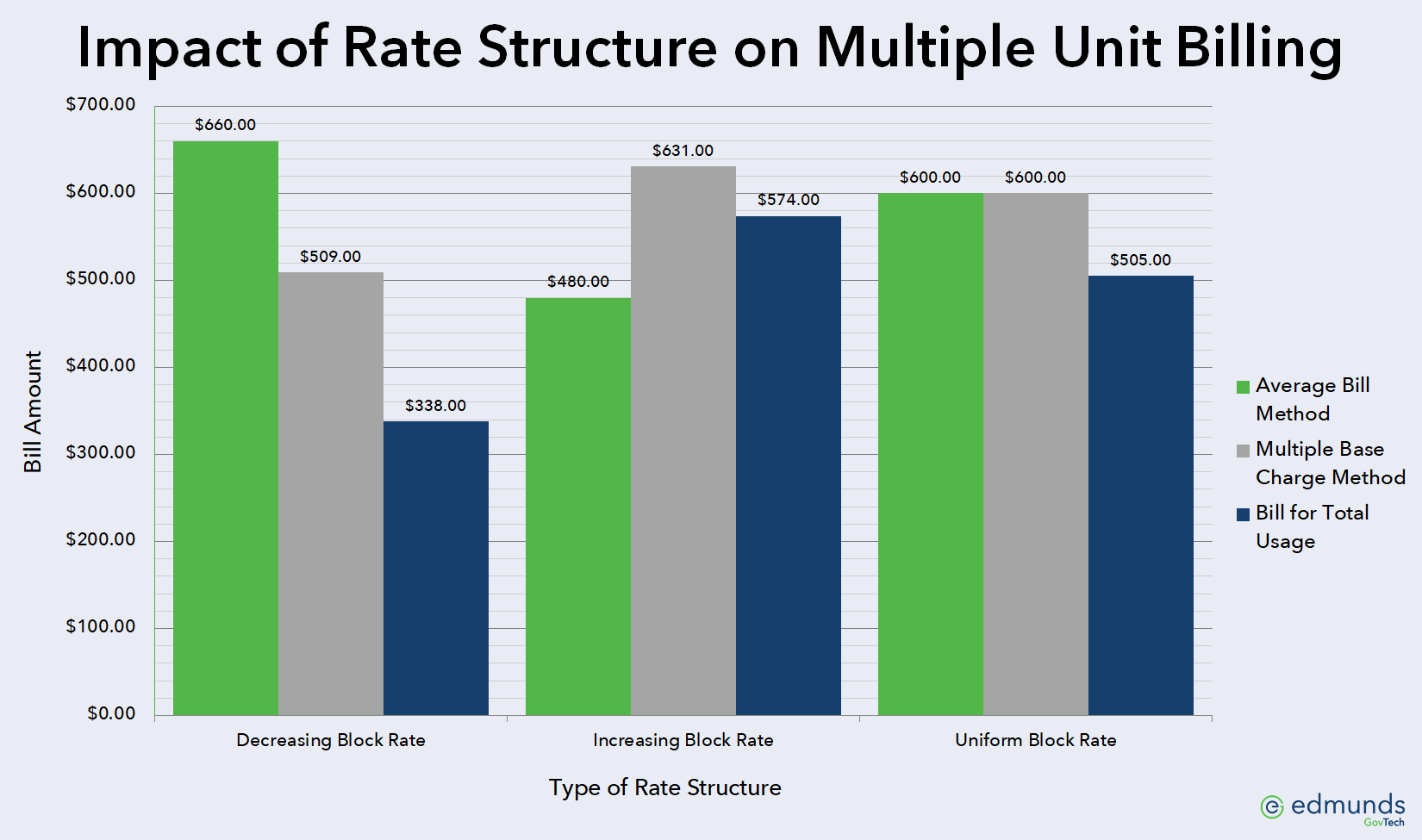 As you can see, if our hypothetical utility has decreasing block rates, they would generate almost twice as much revenue using the average bill method as if they billed the customer as a single unit. The multiple base charge method falls about halfway between.
On the other hand, if our hypothetical utility changed to increasing block rates, they would be losing potential revenue by continuing to use the average bill method and would be better off changing to the multiple base charge method.
Your mileage may vary
I want to reiterate that these are made-up examples for purposes of illustration. Before making any decision to change how you bill for multiple units, you should analyze the impact of any change using your actual rates.
Virtual customer service seminar
The Utility Management Committee of the NC AWWA-WEA, of which I am a member, is sponsoring a Customer Service Virtual Lunch & Learn Seminar this week (which also happens to be National Customer Service Week). Presentations started yesterday and run through Thursday from 11:00 am to 1:00 pm so you can participate during your lunch hour. The price is very reasonable – $20.00 per day or $60.00 for all four days.
I will be presenting tomorrow at 11:00 am on the topic of Customer Service Technology in the Field – Challenges and Opportunities with Mobile Workforce and AMR/AMI. Even if you aren't intrigued by my presentation, I can assure you the other sessions will be worthwhile.
If you're interested in attending, you can download the seminar registration form here.