Local Government Permitting, Enforcement,
Land Management, and Rentals
Increased visibility and streamlined communications for more efficient parcel management.
Edmunds Permitting and Enforcement Solution enables users to efficiently upkeep your jurisdiction's codes. Engineered for inspectors, contractors, and citizens alike, they will have access to a digitally connected interface that allows for enhanced performance and communication.
Key Benefits
Unlimited permit and
violation types.
Real-time visibility with mobile and tablet options.
Permitting Self-Service portal for inspectors, contractors, and homeowners.
Customizable permitting features with user defined forms and letters.
Flexible reporting,
even in the field.
Securely track, manage, and store all parcel related data.
What the Edmunds Permitting and Enforcement Solution Can Empower You to Do:
High performance capabilities
Establish and store any permit, ordinance, or violation type within the system without limitations. Each permit or violation can be customized and automatically generated along with providing document attachments to store and track parcel history.
Seamless data integration
Integrates with all other Edmunds modules such as finance, tax, utility, online payments, parcel data, and more. This module also allows for mapping integration with Google and other GIS applications.
Intuitive inspections
Store, schedule, and manage all inspector information via a user-friendly interface. The mobile app and self-service portal make it easy to schedule and update inspections on the go.
Ordinance violations
Create clear logs of communication to effectively track, manage, and issue violations. Print and disperse parcel violations easily within the system.
Increase visibility
Keep everyone on the same page with our Permitting Self-Service application that allows contractors, homeowners, and inspectors to access an easy-to-use web portal. This portal enables inspectors to view current permit information, inspection schedules, record results, and issue violations all from the field.
Proactive project and land management
Track and update project statuses including planning, zoning, parcel division, permits, and more.
Interested in learning more about our Permitting Enforcement options?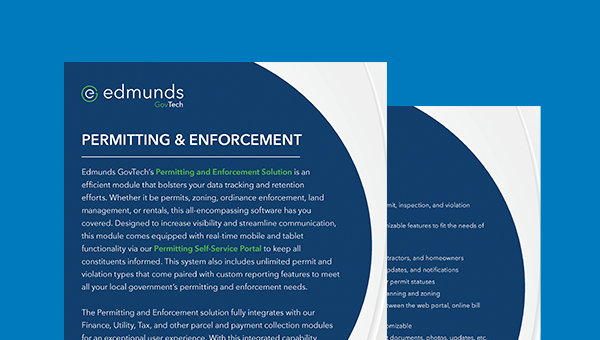 Product Sheet
Permitting & Enforcement
Edmunds GovTech's Permitting and Enforcement Solution for local governments is an efficient module that bolsters your data tracking and retention efforts. Learn more about specific capabilities and features of the Edmunds Permitting Solution.
Streamline Your Local Government's Permitting Management with Edmunds.