Before I get to the topic of today's blog post, let me take a moment to celebrate a milestone.
In late 2010, I had this crazy idea of starting an email newsletter to share ideas to help utilities improve business office operations and better serve their customers. In January of 2011, the inaugural issue of the Utility Information Pipeline newsletter was sent.
Here we are, a little over ten years later, and that email newsletter has now evolved into the Utility section of the Edmunds GovTech blog. Today's blog post marks the 250th of these I've written.
If you've been with me since the very beginning (and there are a few of you still out there!) or if you are a relatively new reader of the blog, please know I appreciate you taking the time to read what I post.
Now, back to our regularly scheduled program…
2021 Utility Fee Survey Results – Part III
Over the course of the past two months, I've been conducting the 2021 Utility Fee Survey. This is the fifth Utility Fee Survey dating to 2012 and subsequent fee surveys in 2015, 2017, and 2019. The survey was designed to research what fees utilities charge, how much they charge for each fee, and to see what trends, if any, are occurring with fees.
This is the third, and final, of three consecutive blog posts reporting the results of the 2021 Utility Fee Survey. 142 utilities, representing 23 states, ranging in size from 31 to 285,000 active accounts participated in the survey.
The Utility Fee Survey is a biennial survey, alternating years with the Utility Staffing Survey.
As was the case in each of the previous surveys, the results include too much information for a single issue. If you're interested, here are the results from the previous Utility Fee Surveys:
The first results post summarized the demographics of the survey respondents as well as water and sewer tap and impact fees. The last post deals with delinquent fees and policies. This post will be the third and final survey results issue and will recap all remaining fees.
Returned check fees
All 142 participating utilities charge a returned check fee ranging from $10.00 to $50.00, as this graph illustrates (clicking on any of the graphs will open a larger image in a new window):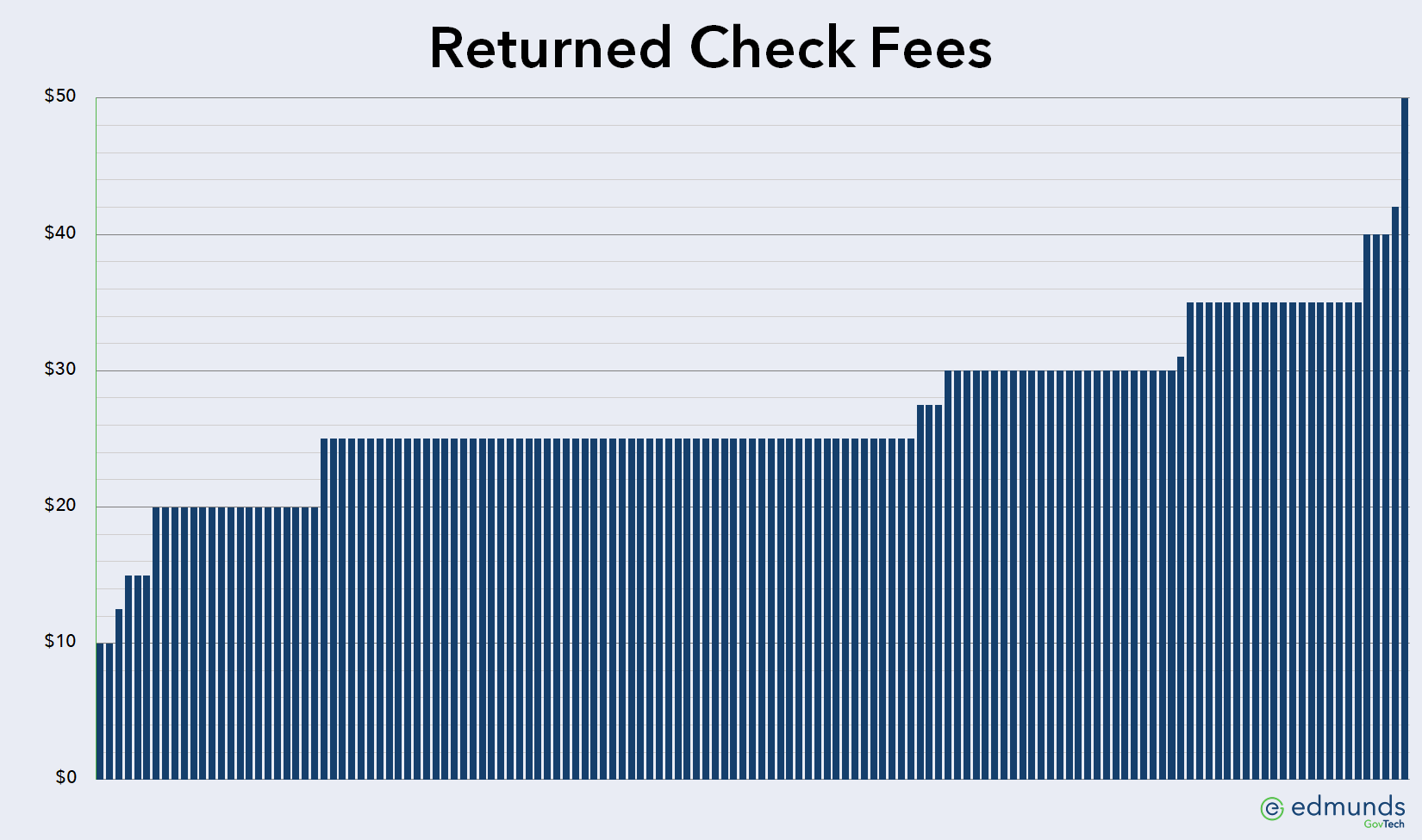 Interestingly, only 73 (or 51.4%) of the responding utilities charge the maximum fee allowed by their state. 33 utilities (representing 23.2%) charge more than the maximum allowed and 36 (or 25.4%) charge less than the maximum allowed.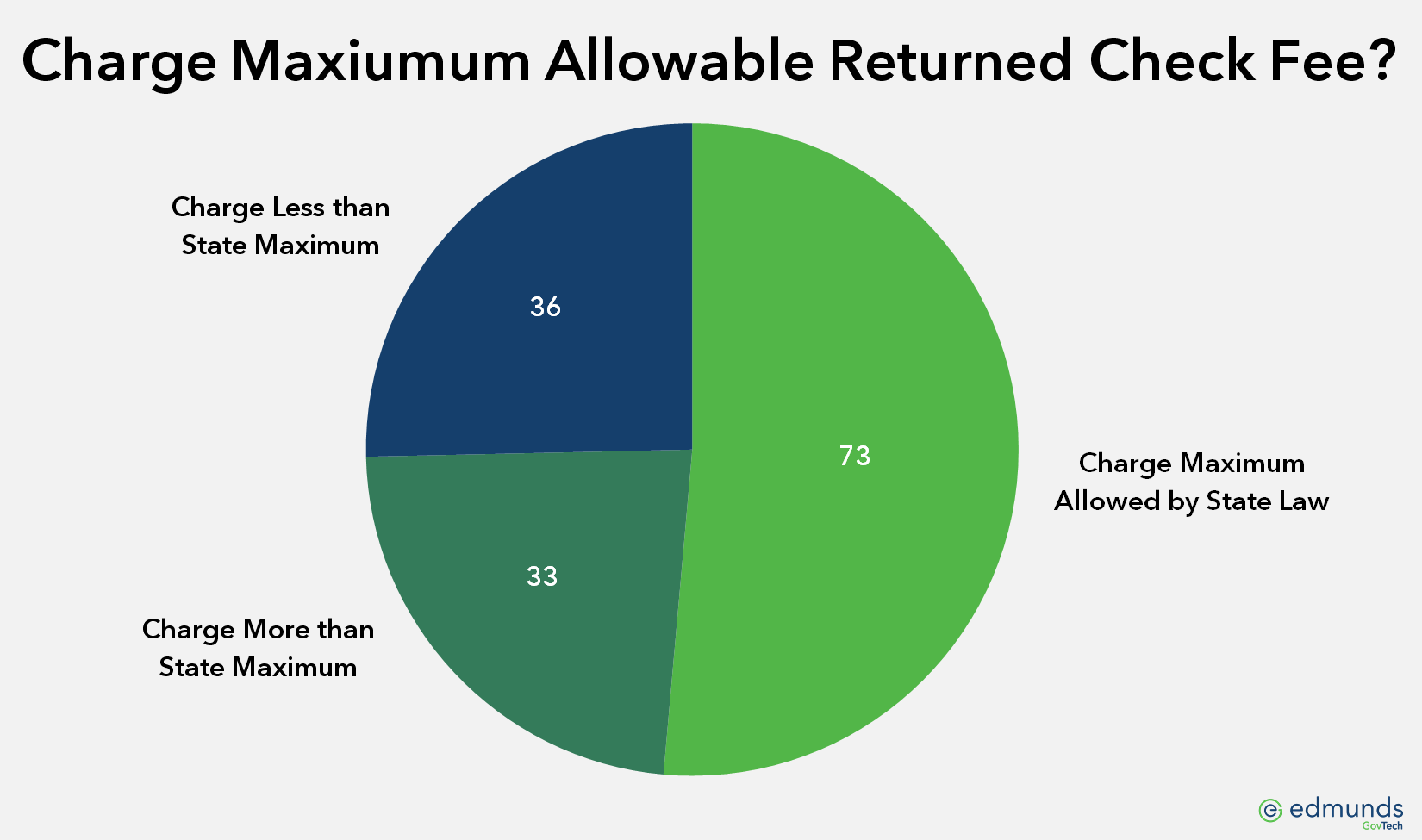 If you're interested in seeing how your fee compares to the maximum allowed for your state, here is a table with all 50 states.
Application fees
In one of the earliest posts, I wrote about application for service best practices. One of my recommendations was to charge a non-refundable application fee, in addition to any security deposit, to all new accounts. This year, 66 of the 142 utilities (representing 46.5%) responding to the survey charge such an application or administrative fee. This is the lowest percentage reported since the beginning of the Utility Fee Survey, down from 50.4% in 2019, 47.9% in 2017, 51.9% in 2015, and 52.3% in 2012. These application fees range from $5.00 to $250.00 as shown below: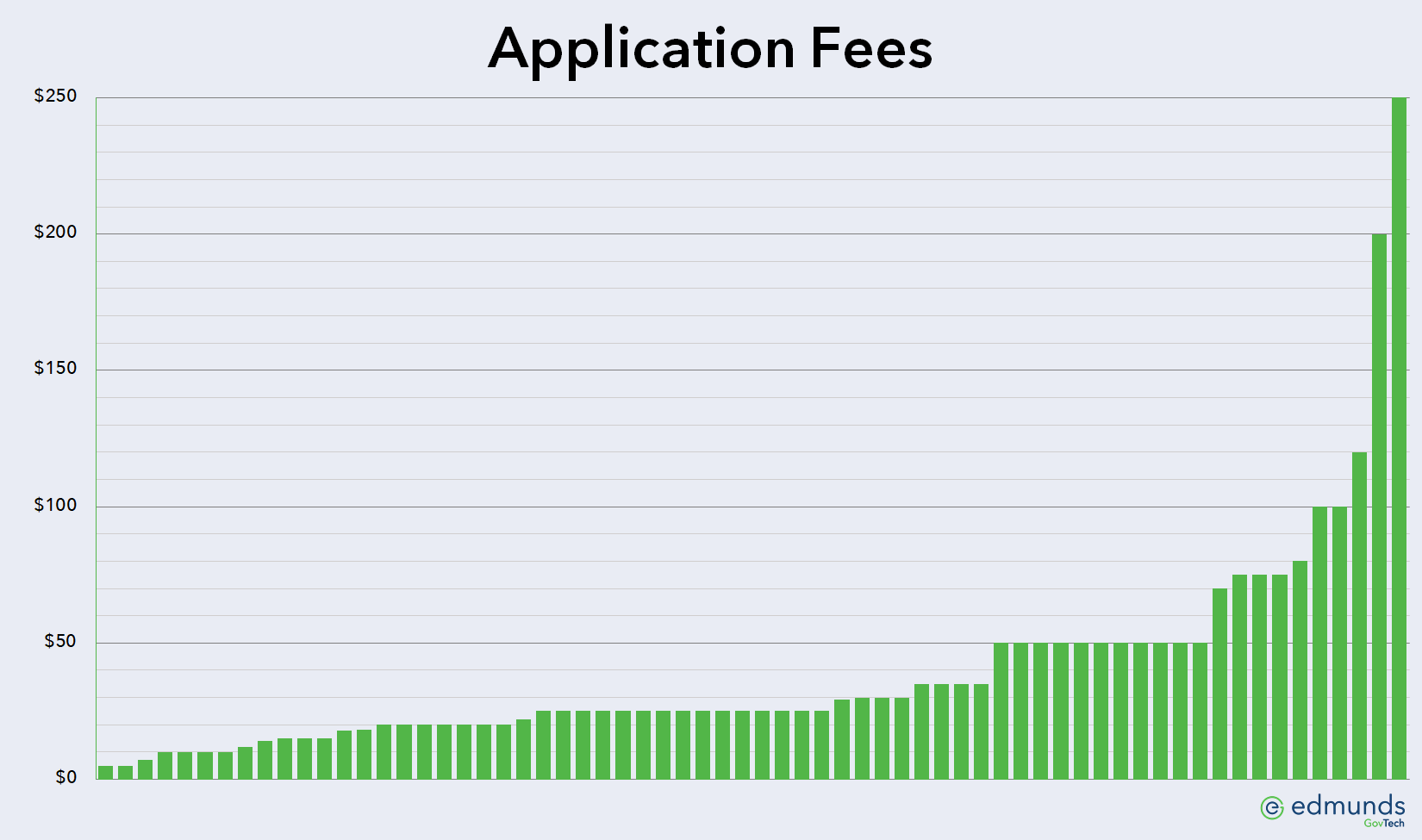 Transfer fees
The Utility Fee Survey also asked how much utilities charge as a transfer fee for transferring service from one account to another. 60 of the 142 utilities (representing 42.3%) charge a transfer fee ranging from $5.00 to $100.00. This is down from 45.9% in 2019. Transfer fees charged by the responding utilities are shown in this graph: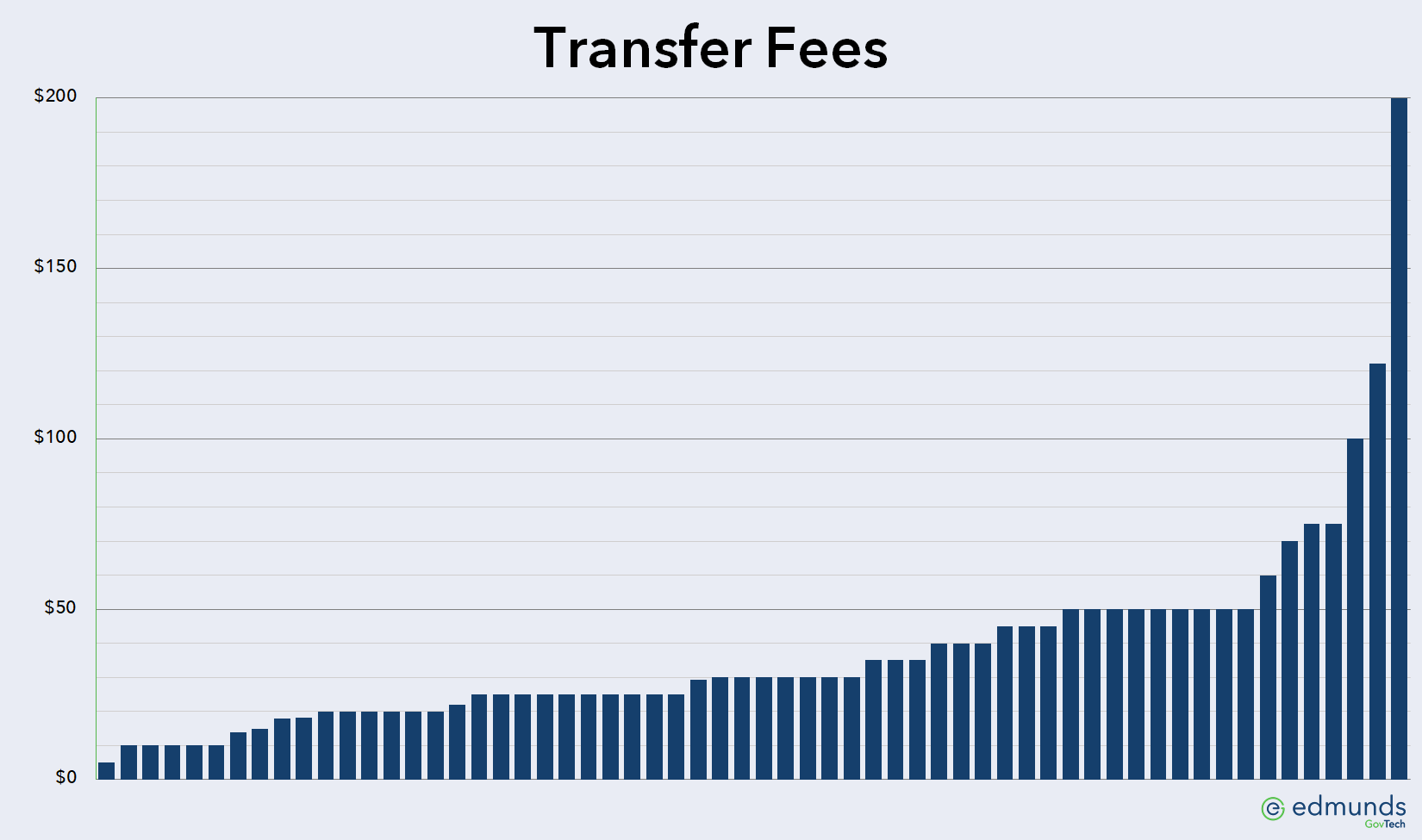 Meter reread fees
25 of the 142 utilities (or 17.6%) charge a meter reread fee if the customer requests their meter be reread. This is down from 23.0% in 2019, 23.7% in 2017 and 23.6% in 2015. In many cases, this fee is waived if it turns out the customer was correct and the utility misread the meter. Of the utilities that charge a meter reread fee, the fee ranges from $5.00 to $85.00 as this graph shows: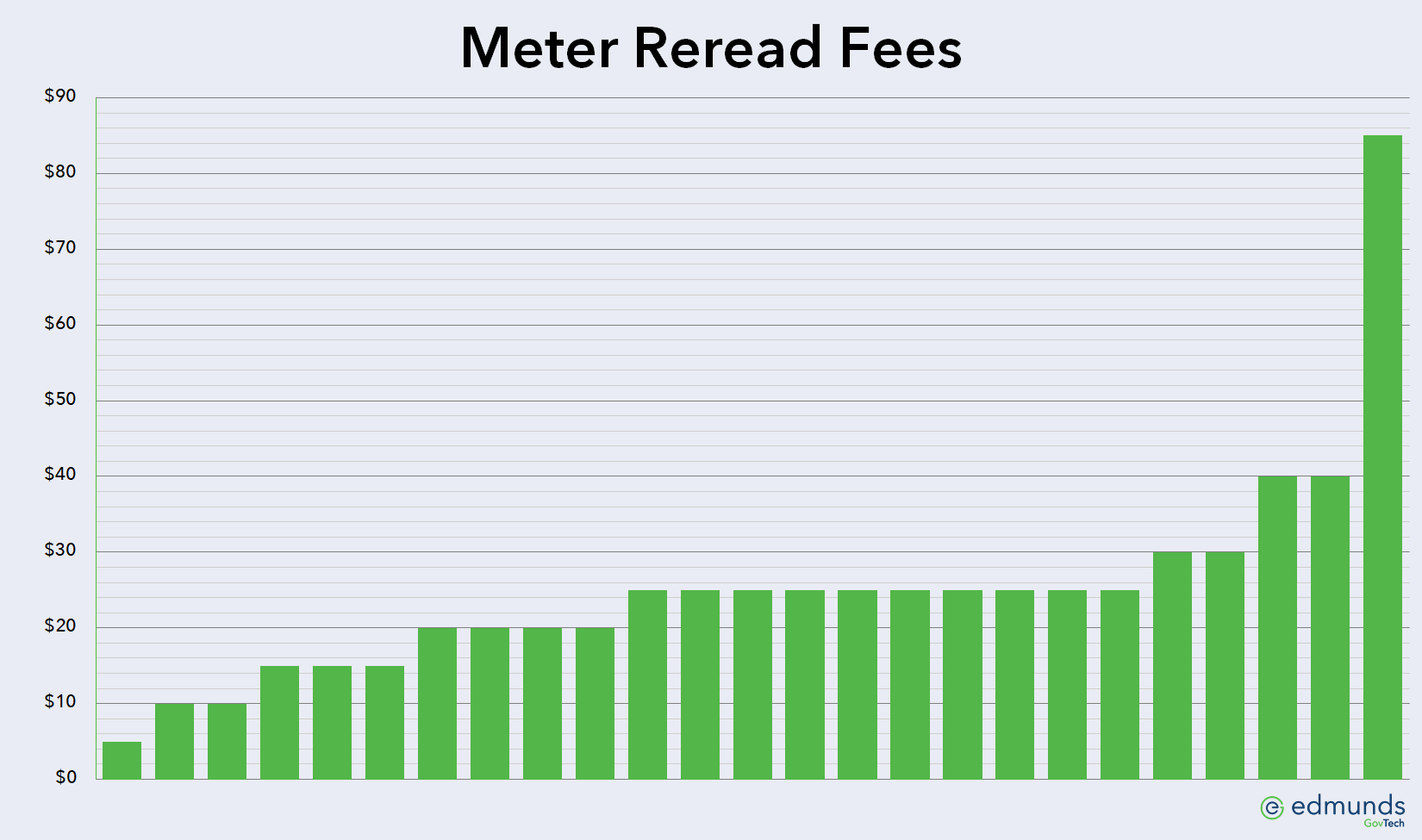 Meter tampering fees
94 of the 142 utilities (or 68.3%) charge a meter tampering fee. This is down from  73.3% in 2019, 77.1% in 2017, and 73.6% in 2015, but up from 60.2% in 2012. Fourteen utilities charge the actual cost of repairs or cost plus an administrative fee. Five additional utilities recovers their costs through the judicial system. Seven utilities have an escalating fee that increases with each meter tampering offense. The remaining 73 utilities charge a flat fee ranging from $25.00 to $2000.00 as shown below: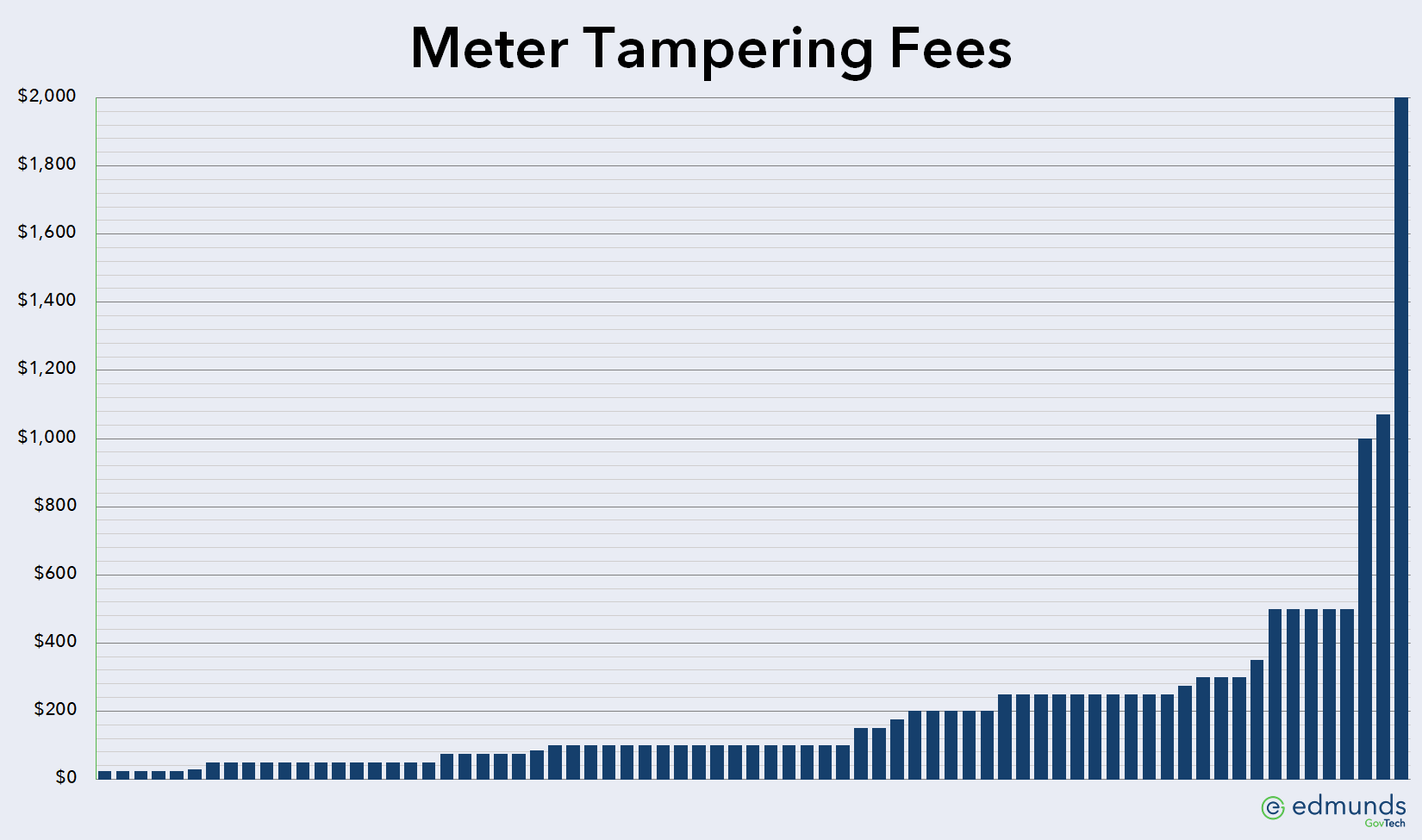 Of the seven utilities that charge an escalating fee, here are the charges for the first, second, and third offenses: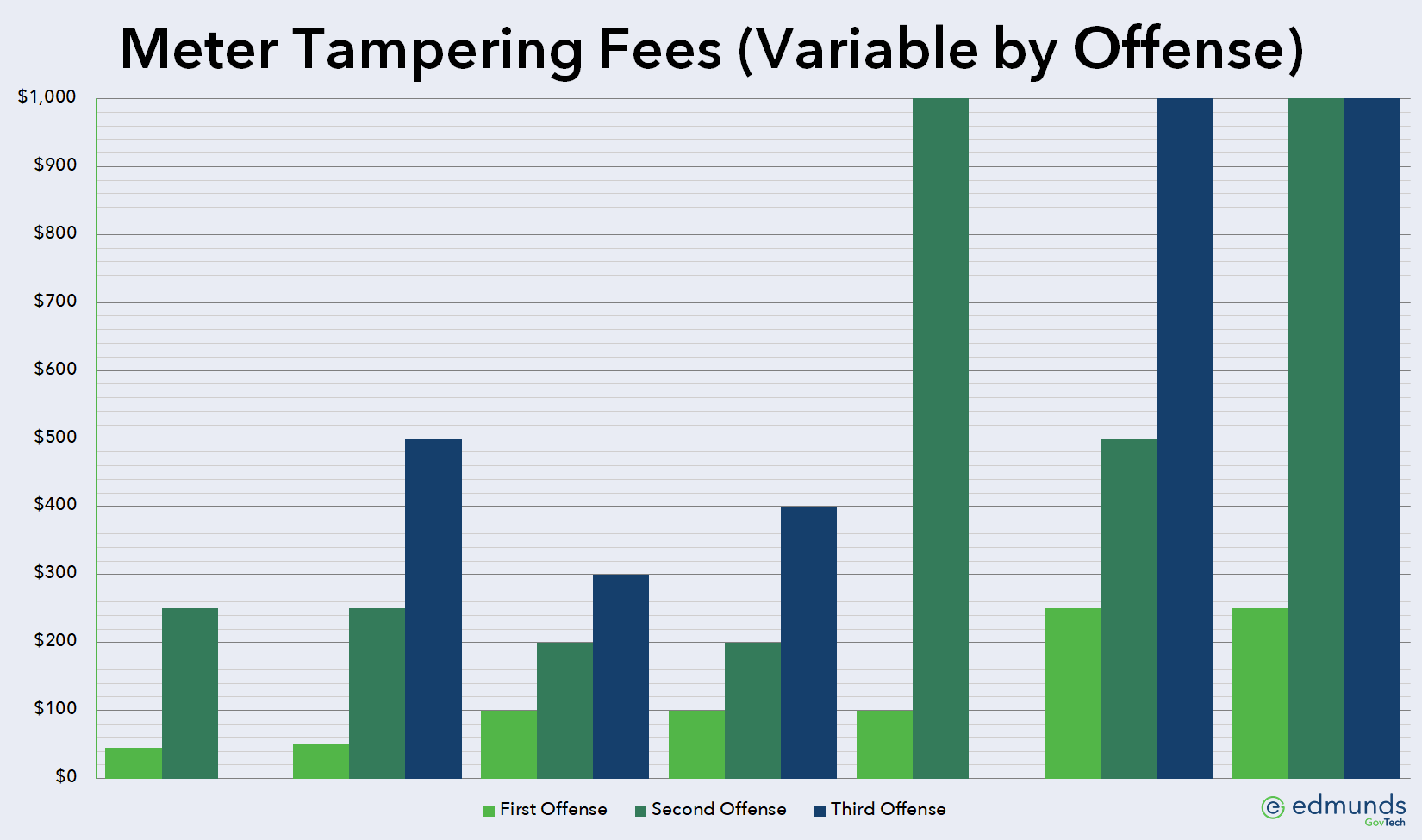 Convenience fees
One of my earliest issues explained why I believe utilities should accept credit cards. Of the 142 utilities responding to the survey, 135 of them (or 95.1%) accept credit cards. This is an increase from 90.4% in 2019, 89.0% in 2017, 81.1% in 2015, and 62.5% in 2012. Clearly, credit card acceptance has become standard practice for most utilities.
Of the 135 that do accept credit cards, 104 (or 77.0%) of these charge a convenience fee as show below: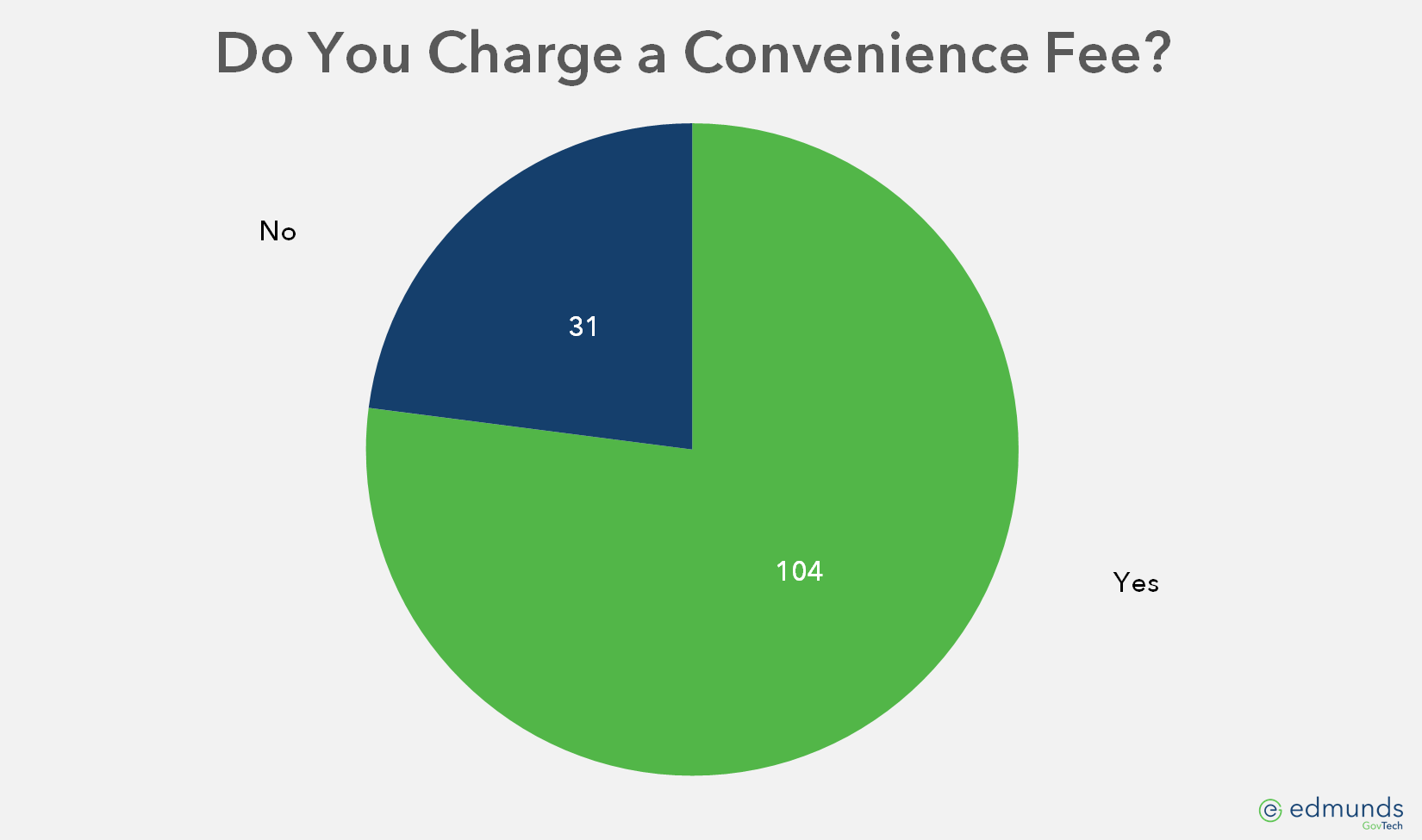 Below is a graphic depicting which methods of credit card payments are assessed convenience fees: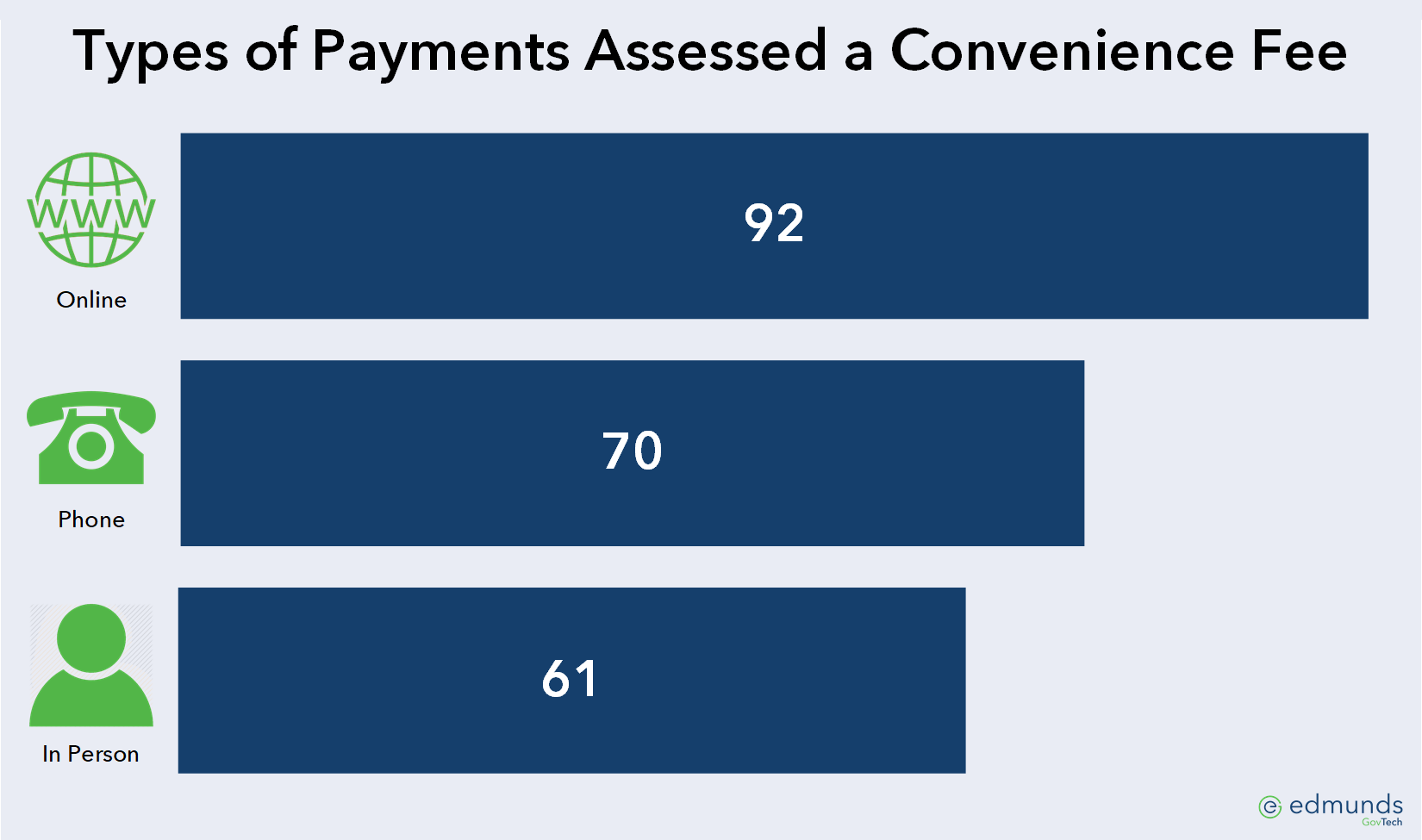 This is the second year the survey asked if the convenience fee is charged by the utility or by a third party. Of the 104 utilities that charge a convenience fee, 88 (or 84.6%) are charged by a third party as shown below. This is up from 81.2% in 2019 and 69.4% in 2017.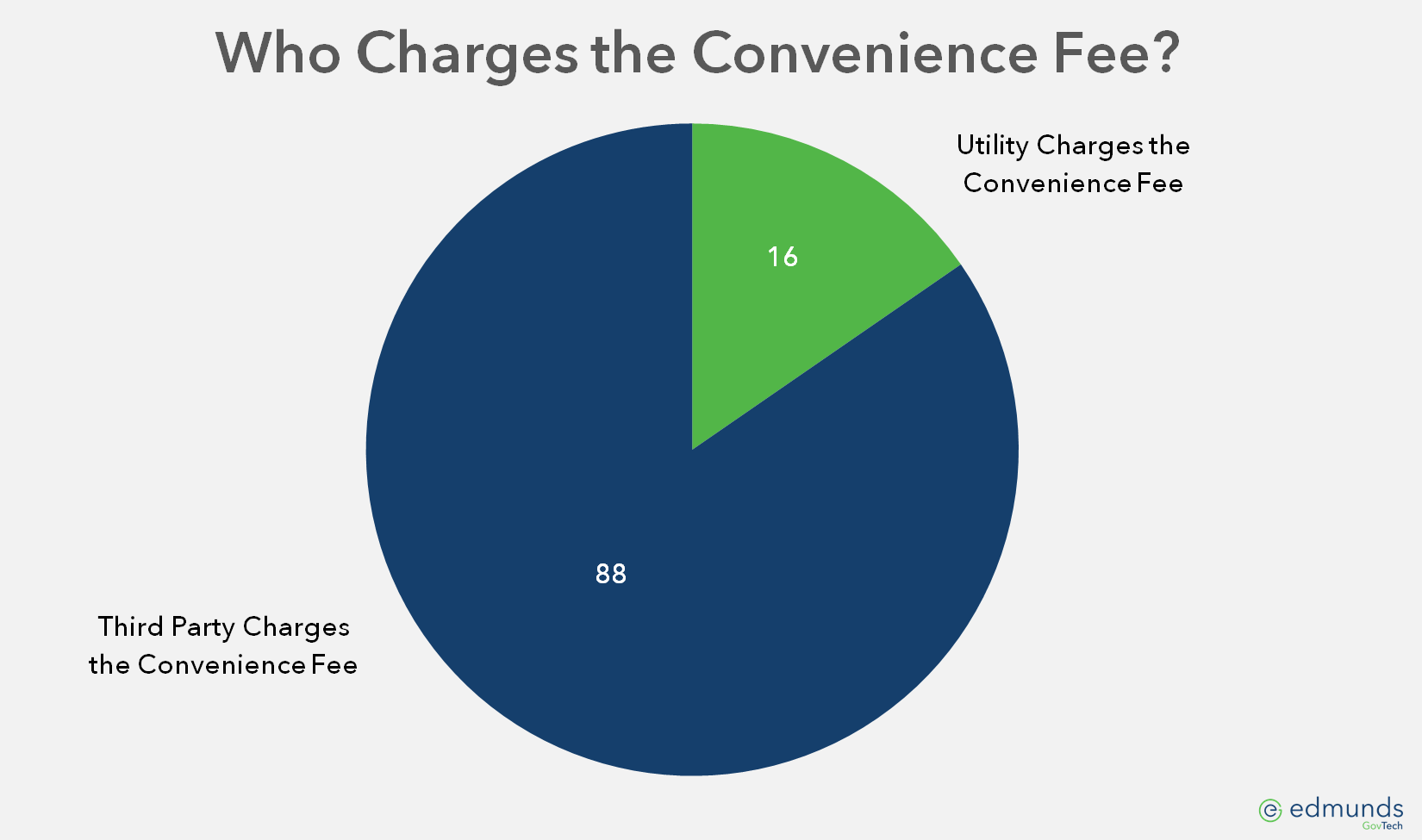 The convenience fees charged by these utilities are too diverse in how they are assessed to be graphed, so they are presented here in a table.
Other fees
In addition to the fees that have been described in the three results issues, the survey asked what other fees utilities charge. Below I've listed a few of the more creative fees that were reported:
Meter test or calibration fee
At least 14 utilities charge a fee if the customer requests that their meter be tested or calibrated. The survey didn't specifically ask about meter test fees however, most only charge the fee if the test results validate that the meter is registering correctly.
Return trip fee
When turning a meter on, most utilities will not leave the water on if the meter indicates water is running inside the house and no one is home. This requires the utility to make a return trip when the customer is home to turn the meter on again. Several utilities charge a return trip fee or running water fee to cover the time and expenses involved in returning to the customer's home.
Field collection fee
Most utilities have adopted the best practice of not collecting money in the field on cut-off day. Two utilities still allow customers to pay the field technician to avoid being cut off and they charge an additional $25.00 or $30.00 to provide that service.